December, 2012
Recently I had the chance to meet the Mayor of Calgary, Nahed Nenshi. We only shared a few minutes of conversation together, and I happened to mention my intentions some day to organize an amateur music festival in Canada (more specifically, Calgary and/or Banff). He seemed to like the idea, as one random day I received a call from Janet Dirks, the Alberta Bureau Chief at CTV National News. She said she had dinner with the mayor at a function the other day and he told her she should do an article on me. There were 500 people at this dinner, and he took the time to mention me...that was pretty incredible of him (by the way, I firmly believe we have the greatest mayor in the world).
The next thing I knew, a television crew arrived at my office. I normally don't work many Fridays but I had one consultation with a patient that morning. They came to film me with this patient and she was even interviewed too. My colleague and friend, Dr. Bryce Adamson, also dropped by to discuss a case and they filmed it too. Unfortunately, that clip was edited out because of time restraints. That same evening, the segment aired. It was pretty cool, I must admit. These days, I am not playing the piano at all because I had such a busy spring and summer, so it was nice to sit back and enjoy the news clip. Sometimes I work so hard I forget to stop and smell the roses but in this case I was so excited to see it.
Hopefully, the clip still works if you want to see it. Thanks again to Janet Dirks and Wendell Tenove for their incredible work. Shot, edited and filmed in one day!
http://www.ctvnews.ca/video?clipId=822961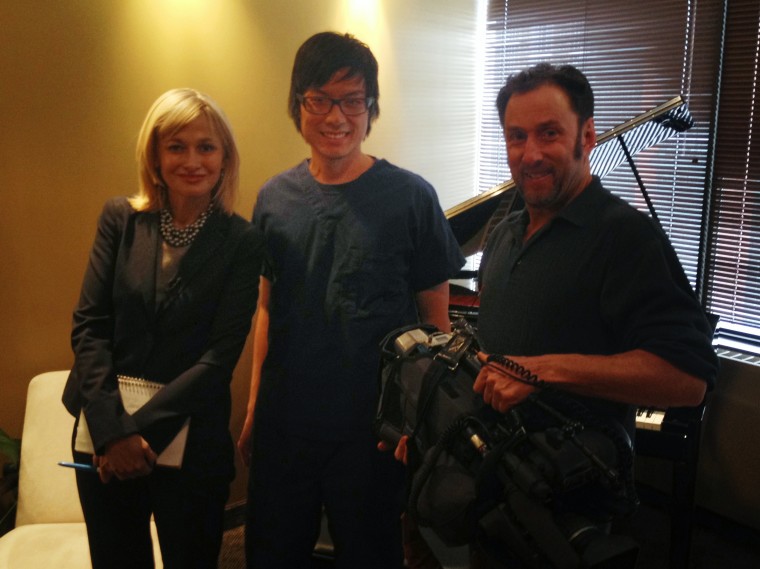 Anyone who dares to play Beethoven's last Piano Sonata Opus 111 must be fearless and confident in his skills. In the case of Thomas Yu, both are true...[He] plays the piece with elegance and depth...and his interpretation was the highlight of the festival day.

Süddeutsche Zeitung, Germany's largest newspaper, translated.